A quick search for the skills employers want to see in newly-hired employees reads a lot like a list of education buzzwords. Growth mindset, emotional intelligence, active listening. One item, in particular, shows up on list after list—leadership skills. It's a topic that gets a lot of press. If we want our students to be successful after graduation, we need to help them develop these skills. That's why we were excited to hear about the Lead4Change Student Leadership Program specifically designed to help students in grades 6-12 develop these critical skills.
What is Lead4Change?
Established by former CEO David C. Novak in partnership with The Foundation for Impact on Literacy and Learning, Lead4Change is the fastest-growing free leadership program for students in grades 6-12. Novak was already passionate about how to develop and inspire leadership skills when he wrote the bestselling leadership book, Taking People With You—The Only Way to Make BIG Things Happen. The lessons taught in the book were then carefully adapted to become the lessons taught in the Lead4Change Student Leadership Program. The program guides students through service-based learning with activities that can be completed over a semester or the full school year.
With this in mind, lessons center around developing leadership skills in students. Topics like team building, communication, collaboration, and more are all covered. These all build toward students brainstorming, planning, and ultimately, implementing a service project that will benefit their school or community. Student teams who have completed their service project can even enter it in the Lead4Change Challenge, becoming eligible to win up to $10,000 for their school or charity to continue the work they began with their project.
What happens when I sign up?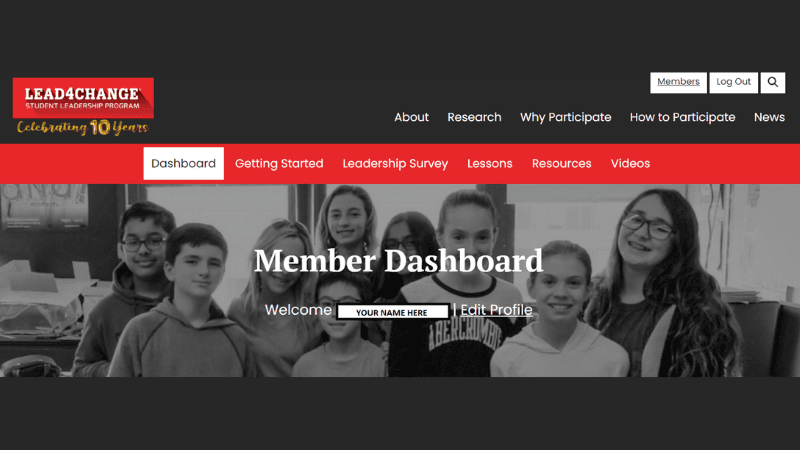 After registering as the teacher leader, you will receive a welcome package and access to an online dashboard. From here, you'll have access to a huge selection of resources to support you as you implement the Lead4Change Student Leadership Program with your students.
The program provides all lesson plans, worksheets, assessments, and other materials you'll need to make the program work in your classroom. The materials start from the ground up and scaffold students' development of leadership skills. This includes pacing guides for the semester or a year, letters that explain what students are working on, and more. Additionally, the teacher dashboard also includes links to how the lessons align with academic standards. This is magic for teachers who need to submit lesson plans to administrators.
How do I begin?

Immediately after joining, you'll have access to Lead4Change's comprehensive library of resources. One of the first decisions you will make is if you'll be working through the lessons with your entire class or with a small group or club. Lead4Change suggests a team be made up of at least three people, but doesn't put a cap on how large your team can be. Additionally, you'll need to determine if the 12-lesson or 6-lesson track is best for your students. Lead4Change has instructions for both options, including ways to better integrate your specific subject into the lessons. So whether you teach English, science, social studies, or mathematics, Lead4Change will work in your class. From there, it's really just as simple as following the lesson plans created for you on the Lead4Change site.
What do the lessons look like?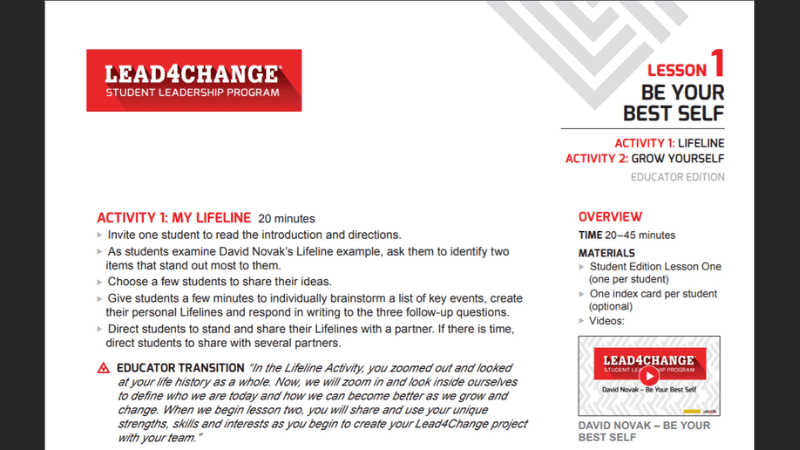 Because the Lead4Change Student Leadership Program has been created and road-tested by active educators and students, the lesson plans are hands-on, collaborative, and highly engaging. The very first lesson begins to develop leadership skills in students by asking them to think about the subject they probably know best: themselves! Lead4Change provides all materials for each lesson, including helpful videos to introduce each concept.
Subsequent lessons build on the previous ones to gradually develop leadership skills in students over the course of the program. After they learn to recognize their own strengths and weaknesses, they learn how to build trust and work with teams. They practice active listening and begin to brainstorm ideas for how they might improve their school or community. They brand their team. This builds group unity helps groups and work together to make sure all feel heard as they finalize their "big idea." Many of us want to develop leadership skills in students, but these lesson plans break down how exactly to do that into steps that make sense and feel achievable to the students.
You mentioned a service project?
The lessons serve as a framework to design and implement a successful service project. During the early stages of the program, students are asked to identify problems in their school or community. After choosing one problem to focus on, they work to develop plans to solve or address it. They may do research, poll students or community members, or reach out to administrators or local officials. Finally, after processing their data, they put their solution into action. After implementing their service project, they also reflect on the process. They discuss what worked and what was unsuccessful. And they think about what changes might need to be made moving forward.
Regardless of the outcome, Lead4Change continues to provide support and encouragement. The Lead4Change Challenge recognizes that great leaders learn just as much from failures as they do from successes. They encourage students who have completed the program to feel proud in sharing their experiences. Even if the project was unsuccessful, all groups who complete the lessons and service project are eligible to enter the Lead4Change Challenge.
Remember, these projects will be as unique and different as your students. Some are big, involving many members of the community. Other projects may address a more specific issue facing just your school. Lead4Change's model works with both types of service projects. Worried about coming up with project ideas? Lead4Change has examples of both virtual and in-person projects other students have completed to refer to for inspiration.
Read to develop leadership skills in your students? Check out Lead4Change's Sign-Up Page to get started!