Brought to you by Turnitin
Turnitin is revolutionizing the experience of writing to learn. Turnitin's tools let instructors engage students in the writing process, provide personalized feedback, and assess progress. Learn More >>
Most teachers will recognize this experience — you're preparing to grade a written assignment, looking over the plagiarism checker report, when you come across one (or maybe even a few!) that seems to contain blatant plagiarism. The entire process grinds to a halt while you investigate further and decide your next move. Are you looking an act of deliberate plagiarism or a skill deficit? It isn't always easy to tell. In fact, there's evidence to suggest that a lot of our students really don't know what is plagiarism and what isn't. At the same time, we know that students do sometimes plagiarize on purpose and, in fact, cases of cheating and plagiarism have risen during the pandemic
We spoke with the Teaching and Learning Innovations Team at Turnitin. They are passionate about the role of plagiarism checkers and academic honesty in education today. While recognizing the challenges teachers face, they also see a great opportunity to reframe the plagiarism discussion and why it's relevant in today's world. 
3 New Ways to Start the Plagiarism Discussion With Your Students
Show them the real-world consequences
When polled, many students know that plagiarism is wrong. However, it gets a bit less black-and-white when they begin to discuss why so many of them do it anyway. If the plagiarism check doesn't catch them, why should they care? Because of this, it's up to us to show them the real-world costs of taking credit for someone else's work.
Sadly, finding examples of this is an easy job. From school superintendents losing their jobs after plagiarizing commencement speeches to songwriting credit being given to 11 different people in an attempt to avoid lawsuits, getting caught using someone else's words cost people their jobs and their reputations. Once our students see that this sort of thing really does matter, they'll be more willing to try to do things differently.
Let them teach you why they plagiarize
According to a study of high school students conducted by the Josephson Institute Center for Youth Ethics, "one out of three high school students admitted that they used the Internet to plagiarize an assignment." It gets worse. Ninety-five percent of the same students in the 2012 study admitted to some form of cheating during their past school year. Obviously, there is either an academic integrity problem or a skills gap problem when it comes to students properly citing sources. Regardless of which one it is, however, we need to do more than simply using plagiarism checkers to "catch" cheaters. Instead, it needs to become one of the tools we use to help students learn how to properly cite their sources.
In order to really make a dent in the plagiarism problem, we're going to have to give our students a seat at the table and listen to what they have to say. Are they cheating/plagiarizing because they don't care about the assignments? Or are the stakes are so high they have no other choice but to cheat? Is the problem that it's just too easy to plagiarize? Students want their voices heard, and by listening to what they tell us are the reasons why plagiarism is such an attractive choice, we'll be closer to figuring out how we can help them feel more invested in putting their own words on the page.
Make your assignments plagiarism-proof
We tell our students not to plagiarize constantly. But how often do we look at assignments to see how easy they are to complete without original thought? Once a teacher finds an essay topic they like, it's easy to stick with it for years. And good topics, ones that get to the heart of the subject matter in a concise way, are often used by teachers all over the world. With that in mind, can we really pretend to be shocked when our students are able to find entire papers written about the theme of a commonly read novel or the importance of a historical event?
Stopping much of the plagiarism we encounter might be as simple as changing how our students demonstrate their understanding. Can we ask questions that can only be answered by our students personally and still get to the core understandings of the unit? If we love an old essay question, can we ask students to find an answer to it online and then provide reasons why they agree or disagree with the assertions? By flipping the model and adding elements that cannot be found in others' work, we could begin to disrupt the most common reasons why students plagiarize to begin with.
So let's say our students are willing to try something different. What tools are out there to help teachers and students accomplish these goals?
The Plagiarism Checker Gets Backup: Two New Tools to Use Along With the Plagiarism Checker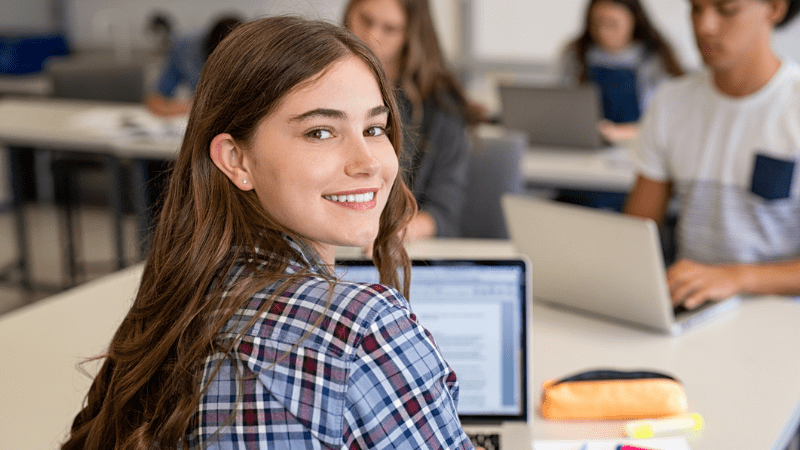 By the time they're in middle or high school, students know the basic definition of plagiarism. They know we don't want them to do it. But what they don't always have quite so strong a grasp on is what exactly constitutes plagiarism and, most importantly, why they should care. Turnitin's Disrupting Plagiarism Planning Resources provides support for teachers facing these issues every day. Their resources provide educators with step-by-step guides on how to begin a conversation with your student about academic integrity. The benefit? The start of developing a culture of academic honesty in your classroom and beyond.
Disrupting Plagiarism's pack of resources also provides tools for those initial lessons about plagiarism. An in-depth teacher's guide, slide deck, guided notes, and classroom poster  are just some of the excellent resources Turnitin offers. By turning the conversation away from "catching" the students who plagiarize and toward an understanding of academic integrity, we'll have taken a giant step toward helping our students grow as independent writers and thinkers.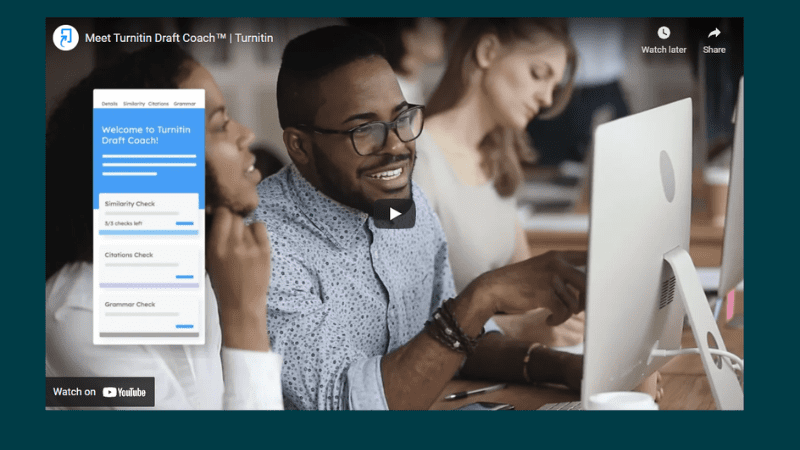 We know that feedback is most useful when it is immediate and focused. Because of this, many of us spend our time while our students write in constant motion. We move from desk to desk, trying to work with each student individually. It works, but there's only one of us and so many of them. Here is where Turnitin Draft Coach™ can really change the game.
Draft Coach™ is Google Doc compatible and helps students not at the end of the writing process, but throughout. It identifies potential errors in grammar, problems with similarity to other sources, or citation issues. What truly sets Draft Coach™ apart, however, is that it doesn't rely on the "click to fix" model. Instead, Draft Coach™ begins by identifying potential problems and helping students understand them. Next, it provides guidance as they revise their work. Real-time formative assessment right there in their document, helping them become better writers while they write, not just after the assignment's been submitted.