Brought to you by EVERFI
The Compassion Project is a first-of-its-kind national initiative to provide compassion education to elementary school students across the US. Learn more>>
Social-emotional learning is always valuable, but it feels especially critical this year after the roller coaster of remote and hybrid learning. Many of our kids haven't been playing with friends on the playground or working with other students in the classroom. They haven't had to maneuver the lunchroom, the hallways, or the proximity of so many other people. This year feels like a bigger back-to-school adjustment than ever.
Creating a solid foundation is so important, especially at the beginning of the school year. Teaching social-emotional skills like compassion, empathy, and mindfulness help students start off on the right track and set the tone for how to get along with, and learn from, one another. This, in turn, helps create a productive learning environment in my classroom.
One of the best tools I've found to teach these skills is EVERFI's online social-emotional learning program, The Compassion Project. It's a fun, easy-to-use, totally free program designed to teach students the critical skills they need to succeed. Here are my top reasons I like to start the year with The Compassion Project.
It supports our core mission
Our school's motto is "Be Here, Be Kind, and Be Your Best." Our kids know it by heart; we repeat it every morning during announcements. This year, in particular, our primary goal is to welcome our students back and make them feel safe. Our principal set the tone by telling us for the first few weeks, "You're working on relationships, that's what's most important." The Compassion Project ties right into our objectives, creating a common language in our classrooms around how we treat each other.
The Compassion Project provides information in an engaging, kid-friendly format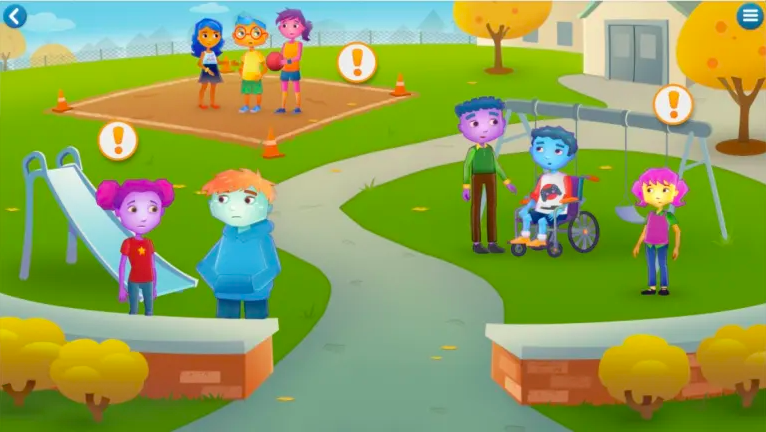 My students love The Compassion Project's interactive online activities. The videos feature kids just like them, in settings they know, like the playground and the classroom. And my students like the kids; they're relatable. What those kids are going through, my kids are going through. One student even told me, "That's what happens to me on the playground, I know how it feels, and now I know how to help someone else when it happens."
It teaches students valuable, lifelong strategies
The Compassion Project features three interactive online activities. Each activity presents a lively scenario and gives students the opportunity to think about how they would react in a similar situation.
Compassion Playground gives students a foundational understanding of the concept of compassion in a context that lets them relate it to personal experience.
EmpathEyes teaches kids to put themselves in others' shoes. They learn that the first step to being more compassionate is understanding how someone else feels.
Mindful Maze teaches kids the invaluable tool of mindfulness: paying attention to how they feel in their minds, bodies, and hearts in the present moment. One part my students love is the balloon breathing technique that helps them calm themselves down.
It's very easy to implement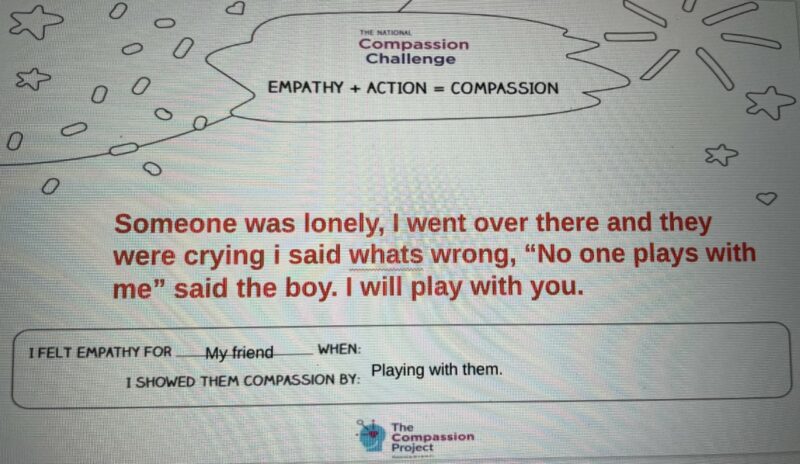 Last year I taught The Compassion Project online due to COVID. This is a screenshot of one of my student's responses after completing the three modules.
With The Compassion Project, there is no need to pull a bunch of resources together. Everything I need is right there in one spot, including the three interactive online activities plus 15 offline lesson plans. And lessons run anywhere from 30 to 70 minutes, making it easy to slip into my lesson plans for morning meeting or even for core academic subjects. In addition, the curriculum aligns with Common Core Standards in ELA and ESL.
The Compassion Project makes a difference
Social-emotional competencies such as compassion, empathy, and mindfulness are essential building blocks for not only a successful school year but a healthy life. Investing time in teaching our kids these skills in a fun, engaging way helps build a positive, supportive learning environment for all kids. Because when the focus is on taking care of ourselves and one another, it creates a ripple effect that matters.
Learn more about The Compassion Project, a free online curriculum from EVERFI, here.